WHEN THE STATICS ARE CORRECT, THE RIFLE CAN BE HELD WITHOUT STRENGTH. THE GUN IS STEADY AND CAN BE ACCURATELY FIRED. THE STATICS MUST BE BALANCED BE FORE THE SERIES BEGINS, ES-PECIALLY DURING THE COMPETITION.
Beginners usually make rapid progress. The scores rise unexpect-edly fast. At some point, this rise slows down, and despite all efforts, the results stagnate. At that point, you either have to set-tle for the end of your ascent or finally have to start working on the quality of your shooting.
Whoever trains a lot the wrong way does not progress. Whoever constantly repeats flaws in the shooting position will always grapple with the same problems. It is therefore necessary to understand the basic principles of the shooting technique and to consistently practice them in training. This doesn't take more time but does bring the added, crucial points. Hard work must be go hand in hand with the appropriate knowledge so that the ultimate result will be correct.

STANDING SHOOTING POSITION:
THE STATICS.
In a house, the walls and beams provide for stability. Horizontal elements, like the ceiling or roof, are supported by girders. In the stand-ing shooting position, these same principles lead to success. The parts of the body are arranged as vertically as possible. The hori-zontally held rifle is supported by an upright column that is stabilized by a diagonal girder. The actual weight is assumed by the bones that carry it with practically no strain due to their sturdiness. Finely measured doses of muscular strength is enough to stabilize the supporting framework.
These rough principles are comprehensible when viewed from the side. Even faulty shooting positions comply with these basic principles, since match guns, which are downright heavy, would otherwise be nearly impossible to control.
Violations of the nature of statics are found in details. If, for example, only 90% of the rifle weight is carried by the skeleton, the remaining 10% must be supported by muscular exertion. Strained muscles however give rise to subtle movements which in turn cause the gun to sway. A shooting position therefore only comes to rest to the extent that the needed strength can be neutralized. The use and opti-mization of statics are therefore a basic re-quirement for steady holding.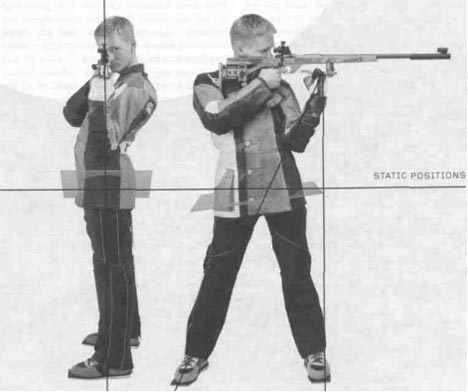 TEST AND TRAINING
Check whether your shooting position is stati-cally correct by consciously relaxing various muscle groups. To do this, lower your glance in the shooting position and breathe calmly from the stomach. Afterwards, concentrate on your left arm and left hand. Try to relax your hand, lower arm and upper arm. Should you feel that your wrist is somewhat buckled, you can over-come this weak point by shifting your bones. A slight turn of the hand is enough to restore its sturdiness. With this simple method, all parts of the body can be checked and correct-ed one by one. This is strenuous at first be-cause it is uncustomary. Through methodical repetition, this procedure will soon become second nature to you. If you are dedicated to this theme, you will train the statics of your shooting position every time you shoot. You should briefly check your statics before each shot, since minor errors increase swaying considerably.
Shooters of caliber practically test their statics unconsciously. The orrection of flaws among "better shooters" can be recognized by the minor ovements they make after each shot and when they take aim for the next shot. What looks like nervous fidgeting turns out, upon closer observation, to be repeated corrections of statics and balance.

DURING COMPETITION
The danger of neglecting statics and starting right away with the pursuit of tens is especially great at a championship. Since we are also tense under stress, the swaying is sometimes enormous.
That's why the following holds true especially during competition: If you carefully bal-ance your statics and equilibrium first, then your rifle will be steady and your hits will be exact. And don't forget to do this before every shot!
Heinz Reinkemeier

Copyright ©1998-2001.
ISSF International Shooting Sport Federation. All rights reserved

Next Part